I am making this jacket. I got some great fabric from Emma One Sock that is navy with pin stripe on one side and on the other it is blue and white striped like seersucker. Lovely. It also has good stretch so it should be really quite comfortable. Thank you Italian mills.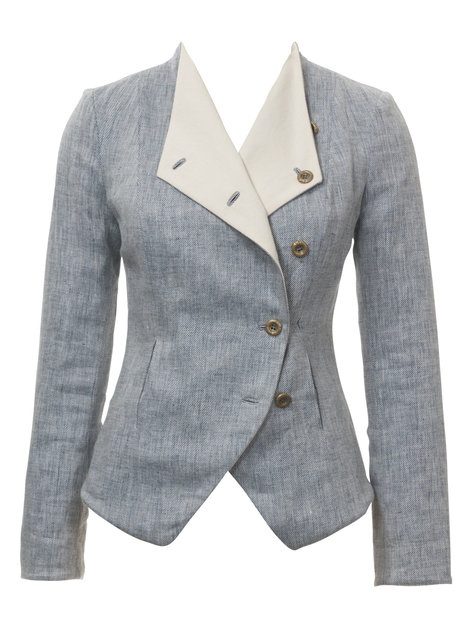 This pattern is from Burda Style... so, it has the worst directions imaginable. I mean, they are really bad. Most of the text has to do with how to make the button holes, in a way I would never do them I should note, not how to deal with the strange sleeves or collar. I found a blog that has a review from someone else who made it, but their jacket looked pretty sad so it gave me zero reassurance.
At any rate I cut the pattern out and made a total of two muslins. After some rather minor adjustments it actually fits very well. I took it in at the back, on the sides, and at the armhole to the bust point. I also moved the buttons per the size and fit and we're looking pretty good. I have yet to try to set the sleeves and will need to make adjustments because I adjusted the arm hole. Also, the pattern wants you to use the same sized pieces for the lining. Nonsense. Every jacket ever, even crappy Target ones, have a slightly larger lining otherwise you would pull a hulk and bust out of the thing moving around. because of the style, the lining will be a little more tricky than I was hoping but I have some ideas. My fabric is rather heavy so I don't want to add a ton of bulk and self line the whole thing.
At any rate, stay tuned. We're sewing again. I've made two pairs of shorts and a pair of pants so far in the last two weeks or so.